US Bispecific Market Expected To surpass USD 15 Billion By 2028 Says Kuick Research
Delhi, Aug. 21, 2023 (GLOBE NEWSWIRE) — US Bispecific Antibodies Market & Clinical Pipeline Insight 2028 Report Highlights:
US Bispecific Antibodies Market Opportunity: > USD 15 Billion By 2028
FDA Approved Bispecific Antibodies: 11 Antibodies
Approved Bispecific Antibodies Dosage, Price & Sales Insight
Bispecific Antibodies Reimbursement Medicare, Medicaid & Drug Specific Policy
Comprehensive Clinical Insight On Bispecific Antibodies In Pipeline: > 300 Antibodies
US Bispecific Antibodies Clinical Pipeline Insight By Company, Indication & Phase
Comprehensive Clinical Insight On Approved Bispecific Antibodies
Download Report: https://www.kuickresearch.com/report-us-bispecific-antibodies-market
Since the US FDA approval of Blincyto in 2014, bispecific antibodies have emerged as a transformative approach, revolutionizing patient care and offering new hope for a wide range of diseases. The US bispecific antibodies market has experienced exponential growth in recent years, with the demand for precision medicine and targeted therapies on the rise. The market's flourishing commercial success can be attributed to several key factors: robust research and development, regulatory support and expedited approvals, strategic partnerships and collaborations. Boosting a thriving research ecosystem comprising leading academic institutions, biotech startups, and established pharmaceutical companies, with expertise and resources is fueling cutting-edge research and development efforts in bispecific antibodies, driving the rapid progression of innovative therapies from early stages to clinical trials.
Additionally, the US FDA has been proactive in supporting the development of bispecific antibodies. Expedited approval pathways, such as breakthrough therapy designation and accelerated approval, have facilitated faster evaluations, enabling promising candidates to reach the market expeditiously. Also, collaboration is a key factor to the US bispecific antibody market's commercial success. Strategic alliances between research institutions, biotech startups, and pharmaceutical giants have fostered knowledge-sharing, resource pooling, and collective efforts in advancing bispecific antibody research and commercialization.
The country has witnessed significant success in oncology, where these innovative therapies have demonstrated remarkable clinical efficacy. In cancer, bispecific antibodies have transformed the treatment landscape, providing options for patients who have exhausted conventional therapies. These therapies, by harnessing the power of the immune system, offer targeted treatment with reduced side effects, enhancing patient comfort and overall well-being. Moving beyond cancer, the market is diversifying rapidly, with bispecific antibodies being explored in autoimmune disorders, infectious diseases, and other therapeutic areas. The dual-targeting capabilities of bispecific antibodies open new possibilities for personalized treatments, tailored to individual patient needs, further enhancing their therapeutic potential.
The US bispecific antibody market's commercial success inspires continued innovation and investment in the field. As more bispecific antibodies achieve FDA approval and gain market traction, companies are encouraged to explore novel targets, innovative formats, and combinations with other therapies. This drive for innovation fosters a virtuous cycle of progress, ultimately benefiting patients with a continuous flow of groundbreaking therapies and refined treatment strategies.
Moreover, the US's investment in research and development has been instrumental in advancing the field of bispecific antibodies. The country's world-renowned academic institutions and research centers engage in groundbreaking studies, exploring novel targets, advanced engineering techniques, and innovative formats. The focus on expanding the therapeutic applications of bispecific antibodies beyond oncology has opened up new avenues for precision medicine, with potential applications in autoimmune diseases, infectious diseases, and other therapeutic areas. With encouraging regulatory landscape, research excellence, and successful commercialization of bispecific antibodies, investors are recognizing the transformative potential of bispecific antibodies in the US.
As the field evolves, the potential for combination therapies and personalized treatments will expand, further enhancing the impact on patient care. The US's positive stance in encouraging investment and innovation will continue to drive progress, solidifying its position as a global leader in the dynamic and transformative bispecific antibody market. With strategic partnerships, robust research, and supportive regulatory initiatives, the US continues to lead the way in driving progress in bispecific antibody development. The opportunities that exist now and those yet to come exemplify the potential of this next generation approach. For now and the future to come, it is easily predictable that the US will keep maintaining its prominent in the bispecific antibody market, making it a front runner in the field.

Neeraj Chawla
Kuick research
Research Head
[email protected]
https://www.kuickresearch.com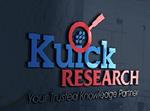 Originally published at https://www.einpresswire.com/article/651034615/us-bispecific-antibodies-market-size-clinical-trials-companies-market-forecast-2028