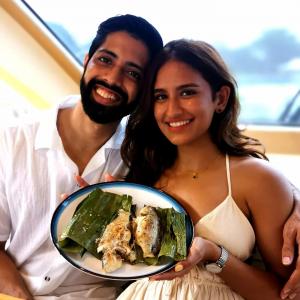 Freshly caught palm-sized fish wrapped in banana leaves.
Captain Osman, our fishing expert, shares tips with our guests.
SINGAPORE, September 29, 2023 /EINPresswire.com/ — Wanderlust Adventures, a premier yacht charter company in Singapore, is redefining adventure tourism with its popular offering, the "Fishing Catch and Cook Experience." This unique adventure promises an unforgettable day for tourists seeking excitement, fun, and a unique cultural experience.
Singapore is renowned for its vibrant city life, but Wanderlust Adventures invites visitors to explore the island nation's hidden gems by embarking on an exciting fishing expedition in the southern islands of Singapore. This immersive experience is designed for both seasoned anglers and beginners, making it a must-do activity for anyone visiting the Lion City.
In ancient times, when Singapore was known as Temasek, it was a humble fishing village inhabited by the orang laut, or sea gypsies. These early residents of Singapore were skilled fishermen who knew the secrets of catching and cooking fish to perfection, often using banana leaves to preserve their freshness. Wanderlust Adventures pays homage to this cherished maritime heritage with the "Fishing Cook Your Catch" experience, offering a genuine connection to Singapore's past.
Tourist will have the opportunity to try their hand at fishing in Singapore's southern islands. Wanderlust Adventures' team of experienced guides, from the renowned My Fishing Frenzy Academy, will impart their knowledge and skills, ensuring that every guest enjoys a successful fishing trip. With favorable weather conditions and ideal water currents, some tourists have even managed to reel in substantial grouper, with weights reaching an impressive 8 kilograms!
Once the fishing adventure concludes, the journey continues as the crew assists in cleaning and wrapping the day's catch in banana leaves. This traditional method, using banana leaves known for their natural fragrance, preserves the fish's authentic flavors. Grilling the fish in banana leaves imparts a delightful aroma, while highlighting the fish's smooth and savory essence, preserving its true flavors. Tourists can savor the taste of freshly grilled fish, bringing them closer to the flavors of Singapore's seafaring history. For the Fishing Catch and Cook experience, most guests choose fish of adult palm size, and the most common species include 'whitecheek,' 'potato fish,' 'tuskfish,' and more. This is because the meat is tastier and easier to clean.
To add a personal touch to the culinary experience, guests are encouraged to bring their own uncooked or cooked food to complement the BBQ dinner. This ensures a diverse and satisfying dining experience for all.
Even for those who have never held a fishing rod, there is no need for concern! The Fishing Catch and Cook Experience also offers beginner-friendly lessons on fishing. Wanderlust Adventures' fishing experts are on hand to guide participants on the tips and tricks to maximize their chances of landing a big catch.
"We're thrilled to introduce this unique Fishing Catch and Cook Experience to our offerings," says [Mr Quek Wee Teck Aka. Captain Q], CEO of Wanderlust Adventures. "It's not just about catching fish; it's about reconnecting with Singapore's maritime heritage, learning valuable skills, and creating unforgettable memories. We believe this experience will be a highlight for tourists seeking an authentic and adventurous journey in Singapore."
As tourism in Singapore continues to evolve, Wanderlust Adventures remains committed to offering innovative and culturally enriching experiences. The Fishing Catch and Cook Experience perfectly provides tourists with a deeper connection to the destination and its heritage.
Don't miss the opportunity to be part of this extraordinary adventure that promises to be a 'life-changing experience' as guests relish the taste of grilled fish freshly caught from the ocean while learning the art of fishing. Whether you're an angler or simply seeking a unique adventure, Wanderlust Adventures invites you to join them on this captivating journey, where many customers come to savor the Fishing Catch and Cook for the truly special experience it brings.
Lorraine Chong
Wanderlust Adventures Pte Ltd
+65 9476 6883
[email protected]
Visit us on social media:
Facebook
LinkedIn
Instagram
YouTube
TikTok
The Singapore Fishing Catch and Cook Experience


Originally published at https://www.einpresswire.com/article/658298419/adventure-seeking-tourists-thrive-on-singapore-s-fishing-catch-and-cook-experience